Why you cant do 2BSIQ with one flex (yet)!
I really like my flex 6700. It's a great radio that allows me to operate very easily remote. Over the last 2 years I am pushing it to the limit and I have managed with the right filters to operate SO2R however my ultimate challenge is work 2BSIQ. No matter how hard I tried, the synchronisation is poor and here is why:
For people who do not know what 2BSIQ is , please read
here
.
In summary, you are running 2 QSOs in parallel in PERFECT synchronisation as shown in this diagram by CT1BOH:

Although the flex lets you switch both your TX and RX focus to theoretically achieve the above, the audio from the flex gets interrupted for approximately 160ms when the TX focus is changed and the radio is on TWO bands. Even without transmitting. The silence is present in BOTH VFOs/Slices.
This is the audio recording from the flex with a TX focus change on TWO bands: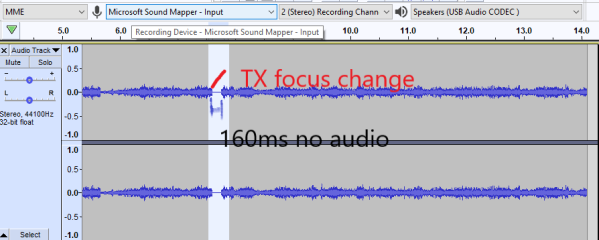 It is important to note that this has nothing to do with latency. The brain can cope with latency, however the brain cannot cope with no audio. Essentially this means that as soon as you finish transmitting on the first band and try to transmit on the second band, the first 160ms of audio is lost. If for example you get called by CR6K at 40wpm, you will probably only hear R6K because C would have been sent during the 160ms period of silence. This will result in a repeat and the perfect synchronisation of 2BSIQ is lost.
This silence is present both locally and remote. If you have a flex try it: SO2R profile. Slice A on one band, slice B on second band, headphones each slice on one ear. Swap TX focus by clicking on the non-red TX button, notice a short silence when you press!
Flex suggest that this 160ms silence is needed for essential internal switching. That's a long switching interval....! They did say they may look into it. I hope its fixable!
By: marios added:27-07-2021 16:14 (modified: 27-07-2021 16:21)